Fun with Dick and Jane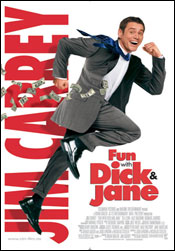 Kjøp på DVD
Fun with Dick and Jane på DVD
I komedien Fun With Dick And Jane med Jim Carrey og Téa Leoni, opplever Dick Harper (Carrey) at årevis med hardt arbeid omsider belønnes når han blir forfremmet til visepresident i Globodyne, en verdensomspennende markedsleder innen sammenslåing av mediahus. Men etter nøyaktig et døgn i sin nye jobb, blir Globodyne knust av en ulykke av Enron-aktige proporsjoner - og Dick sitter igjen med Svarteper.
Dicks plutselige og uventede fall fra suksessens tinder betyr at han ikke har rukket å sette til side midler for dårligere tider. Nå raseres alt rundt ham, og Dick og hans elskelige kone Jane (Leoni) kan bare stirre i vantro etter hvert som deres luksuriøse hjem, flotte biler og statusbevisste venner forsvinner i løse luften.
Etter bestandig å ha fulgt spillereglene og jobbet knallhardt og konsentrert for å bygge et komfortabelt liv for seg og sin familie, er Dick helt uforberedt på å gi slipp på den amerikanske drømmen. Men ved å plukke med seg en leksjon fra sin korrupte arbeidsgiver, får han en genial idé: Hvis tyveri var bra nok for hans tidligere sjef, er det bra nok for ham!
Med sine nyoppdagede evner og stor beslutningsvilje setter Dick og Jane ut på et hysterisk hevntokt for å lære storkapitalen en lekse den sent vil glemme.
Fun With Dick And Jane er en nyinnspilling av en film fra 1977 med Jane Fonda og George Segal i de to tittelrollene.
Kjøp filmen Fun with Dick and Jane
Bestill på DVD
Fun With Dick and Jane, iMDB