Memoirs of a Geisha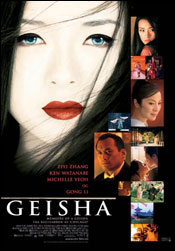 Kjøp på DVD
Memoirs of a Geisha på DVD
I 1997 innbød forfatteren Arthur Golden sine lesere til en berusende og medrivende historie om en skjult verden i sin tiljublede roman Geisha. Den overveldende romantiske og episke fortellingen tilbragte to år på The New York Times' bestselgerliste, solgte i mer enn fire millioner eksemplarer på engelsk, og er blitt oversatt til 32 språk, inkludert norsk.
Nå har den Oscar-nominerte regissøren Rob Marshall (Chicago) og produsentene Lucy Fisher, Douglas Wick og Steven Spielberg, i samarbeid med en feiret internasjonal rollebesetning og et prisvinnende bak kamera-team, bragt denne hypnotiserende fabelen til kinoduken.
Historien åpner i årene før andre verdenskrig, i en mystisk og eksotisk verden som fremdeles fortryller, når et japansk barn blir tatt fra sin lutfattige familie for å jobbe som tjener i et geishahjem. Til tross for en svikefull rival som nesten klarer å knuse henne, blomstrer den unge jenta og blir den legendariske geisha Sayuri. Hun er vakker og kultivert, og Sayuri trollbinder de mektigste menn i hennes tid, men er hjemsøkt av sin hemmelige kjærlighet til den ene mannen som er utenfor hennes rekkevidde.
Kjøp filmen Memoirs of a Geisha
Kjøp den på DVD (CDON)
Memoirs of a Geisha, iMDB