Miami Vice på DVD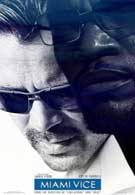 Kjøp på DVD
Miami Vice DVD
James Crockett (Colin Farrell) og Ricardo Tubbs (Jamie Foxx) fra sedelighedspolitiet går til krig mot Floridas narkoverden i Michael Manns "Miami Vice".
De to politispanerne Crockett og Tubbs blir satt på et farlig oppdrag etter at en lekkasje på høyt nivå har ført til at to føderale agenter og familien til en informant er blitt brutalt drept. Etterforskningen fører partnerne direkte til kaldblodige drapsmenn fra Det ariske brorskap og et omfattende nettverk av globale smuglere beskyttet av et avansert sikkerhetsopplegg.
Under jakten støter de på kartellets vakre kinesisk-kubanske økonomiansvarlige Isabella (Gong Li fra "Geisha"), en kvinne som flytter, hvitvasker og investerer penger. Den kriminelle forførerinnen gir Crockett en sjanse til å drive ut sine egne demoner der han prøver å beskytte henne mot mørkere makter...mens de to forelskede finner ut hvem som prøver å narre (og faller for) hvem.
Kjøp filmen Miami Vice
Kjøp på DVD
TV-serien Miami Vice
Miami Vice, iMDB