Tenacious D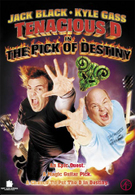 Kjøp på DVD
Tenacious D in the Pick of Destiny DVD
Jack Black og Kyle Gass' populære undergrundsband Tenacious D gjør debut på film i et dette festlige musikalske eventyret
I Venice Beach treffer Jack Black sin likesinnede i den lokale bomsenKyle Gass, og sammen danner de et band.
For å slå igjennom trenger de hjelp av overnaturlige krefter, The Pick of Destiny, et legendarisk gitarplekter, som finnes på et rock & roll-museum som ligger 50 mil unna.
Guttene bestemmer seg for å følge sin rockegud Dio, og begir seg ut på en spennende reise...
Kjøp filmen Tenacious D in the Pick of Destiny
Kjøp på DVD
Tenacious D in the Pick of Destiny iMDB