The Fast and the Furious DVD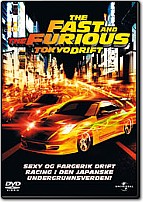 Kjøp på DVD
The Fast and the Furious: Tokyo Drift på DVD
Fra skaperne av The Fast and the Furious og 2 Fast 2 Furious kommer nå tredje del i denne fartsfylte serien - en høyoktan opplevelse uten sidestykke, i en verden full av eksplosiv fart og spenning.
Den tidligere straffede streetrace-føreren Sean Boswell (Lucas Black) prøver å starte et nytt liv på den andre siden av kloden, men hans besettelse for racing gjør at han kommer på kollisjonskurs med den japanske underverdenen. For å overleve må han lære seg å mestre drifting, en ny form for racing. Med dødsforakt utfordres tyngdekraften ved å presse supertrimmede biler gjennom hårnålssvinger i jakten på det ultimate adrenalinkicket.
The Fast and the Furious: Tokyo Drift plasserer deg i førersetet, med enda flere halsbrekkende og utrolige stunts, og mer pulserende kappkjøring enn noen gang!
Kjøp filmen Tokyo Drift
Bestill på DVD
Tokyo Drift, iMDB