World Trade Center på DVD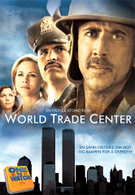 Kjøp på DVD
World Trade Center DVD
Fra Oliver Stone kommer en inspirerende og sann historie om mot, familie og amerikanernes uknekkelige livsvilje.
Nicolas Cage og Michael Peña spiller henholdsvis John McLoughlin og Will Jimeno, to politimenn som jobber i New Yorks havnepoliti.
Den 11. september 2001 blir de fanget i ruinene da tårnene faller sammen. McLoughlin og Jimeno skjønner at de må holde sammen i kampen for å overleve, og vi får oppleve denne skjebnesvangre dagen gjennom øynene til de to politimennene, konene deres (Maria Bello og Maggie Gyllenhaal), andre overlevende og redningsmannskaper fra hele byen.
Kjøp filmen World Trade Center
Kjøp på DVD
World Trade Center, iMDB