A touch of Frost DVD
I "Detektiv Frost", en av Storbritannias mest populære TV-serier, spiller David Jason kriminalinspektør Jack Frost - en ukonvensjonell etterforsker med omtanke for de svake, og en intuitiv sans for moralsk rettferdighet. Med sin manglende respekt for punktlighet, og avslappede forhold til rutiner trekker han til seg problemer, nesten som en magnet.
Oversikt over Frost-episoder på DVD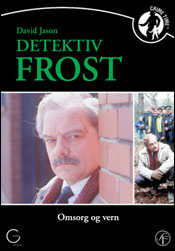 Kjøp A touch of Frost på DVD
Detektiv Frost Vol 1
Boksen inneholder følgende episoder:
Omsorg og vern:
Beroende på en misforståelse graver Frost opp et 30 år gammelt lik som er lenket til et tomt, men låst kassaskrin, når han leter etter et forsvunnet barn. Samtidig skal han også pleie sin dødssyke kone.
Ikke av godhet:
Dentonpolitiet sliter med trusler, dødsfall, mordbrann og personalmangel. Men Frost har hendene fulle med å etterforske en sak der en kvinne har mottatt truende telefoner i forbindelse med mordet på en tenåringsjente.
Slutninger:
Frost har fått en ny partner og sammen etterforsker de ranet på et eksklusivt casino hvis innehaver er en særdeles frekk og freidig kvinne. I tillegg finner det sted en påkjørsel som involverer en pensjonist så vel som sønnen til en politiker.
Kjøp Detektiv Frost på DVD
Kjøp fra CDON
Lei sesongen hos Lovefilm
Detektiv Frost Vol 2
Boksen inneholder følgende episoder:
Tysteren:
Frost må etterforske mordet på en politityster. Ettersom mordet har funnet sted i et område hvor rasismen ulmer må han gå ekstra varsomt fram for ikke å trå noen på tærne.
Enker og farløse:
Det har vært en serie innbrudd hos en rekke pensjonister. Frost får hendene fulle når det viser seg at det siste innbruddet medfører stygge skader på en eldre kvinne som har blitt brutalt slått ned.
Ingenting å skjule:
Frost blir tilkalt når en ung narkoman dør av en overdose. Legen finner ikke noe som bestrider dødsårsaken, men under obduksjonen kommer det fram at gutten faktisk er myrdet. Etter som etterforskningen skrider fram må Frost ta et oppgjør med gamle demoner.
Kjøp Detektiv Frost på DVD
Kjøp fra CDON
Lei sesongen hos Lovefilm